Megan Phillips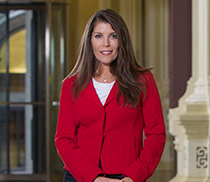 Megan Phillips has been involved with CASA since 1988 through its national philanthropic partnership with Kappa Alpha Theta sorority.  Megan has served on the Missouri CASA board since 2006 and served as President in 2009-10 and 2013-14. 
Megan is a judicial law clerk for the United States District Court for the Eastern District of Missouri, co-chair of the Missouri Joint Commission on Women in the Legal Profession, and member of the Board of Governors of The Missouri Bar.  Previously, she has served as law clerk for the Missouri Court of Appeals, domestic violence consultant for the St. Louis County Family Court, teaching fellow in the Family Violence Clinic at the University of Missouri-Columbia School of Law, President of the Women Lawyers' Association of Greater St. Louis, volunteer faculty for the Missouri Girls State leadership program, and board member of the National Conference of Women's Bar Associations and the Bar Association of Metropolitan St. Louis.
Megan is a Kansas City native and earned her J.D., B.A., and B.E.S. from the University of Missouri-Columbia.